XTRAC Laser
Quick Facts about XTRAC
Effective treatment — symptoms** reduced generally in 10-12 treatment sessions
Long-lasting relief — typically several months free of symptoms**
Painless and quick treatments
Relief without messy creams and daily skin care regimen
Covered by most major insurance companies, available by Rx
Since receiving FDA clearance in 2000, the XTRAC Excimer Laser has come to be recognized by dermatologists worldwide as the market leader in the treatment of psoriasis and vitiligo.
XTRAC Lasers produce a highly effective, safe, and painless therapy by delivering a targeted, super-narrow UVB band to affected areas, resulting in effective and rapid improvement without the worry of harmful side effects of invasive, systemic agents.
Specifically XTRAC provides several key advantages when compared to other available psoriasis treatment options:
Topical Treatments
No messy creams and daily skincare regimen
No decrease on effectiveness over time
Can be used on hard to treat areas (scalp, elbows, etc.)
No risk of skin thinning or stretch marks
Biologics
No risk of tuberculosis or other serious infections
No worry of harmful side effects such as liver damage, birth defects, heart failure
No monthly injections
Much lower costs
Standard Phototherapy
No UV exposure to healthy skin
No risk of skin cancer
No monthly injections
Significantly fewer treatments
Shorter time per treatment
Lower cost
Psoriasis: Before & After with XTRAC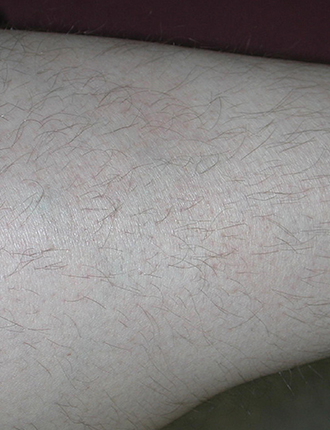 1. In a clinical study, patients achieved a greater than 75% repigmentation after 30 sessions. Individual results may vary.
2. Hadi S, Spencer JM., Dermatol Surg 2004.
3. Felten, Alikhan and Petronic-Rosic, JAAD, volume 65, Number 3.
Vitiligo: Before & After with XTRAC 
Skin has an even chance with XTRAC
Vitiligo is a skin condition which involves loss of melanin, the primary skin pigment, resulting in irregular white patches.
Vitiligo is not forever.
Fortunately, XTRAC treatments can minimize and, in many cases, even eliminate vitiligo depigmented patches. The XTRAC excimer laser delivers a targeted beam of UVB light and only the areas of skin affected by vitiligo receive the laser energy.
Though the laser spot size measures only 18mm x 18mm, due to rapid exposure times, relatively large, discrete areas can be treated in just 5 to 10 minutes, which is much faster than the duration of conventional phototherapy light sessions. And most importantly, XTRAC treatments achieve complete response rates faster in a higher proportion of patients.
Clinical Results
In one clinical study, 32 patients with 55 vitiligo patches were treated with the [XTRAC] 308nm laser. All areas were treated until 75% or greater repigmentation was achieved or for a total of 30 semi-weekly sessions, whichever occurred first.1
The final analyses showed that of 21 facial spots treated, 71.5% achieved 75% or greater repigmentation. The next best responses were attained treating neck and scalp areas, of which 60% benefited with 75% or greater repigmentation.2
Other studies have concluded that when XTRAC is used as monotherapy, repigmentation rates of more than 75% are seen in more than 50% of patients butresponse rates as high as 95% have been achieved, It has also been noted that repigmentation can be seen in as few as 11 treatments.3